WIREWAX Rewind: The Biggest News From WIREWAX For 2019
WIREWAX
December 18th, 2019
When it comes to an end of year wrap up, we can't help but beam with pride about the gigantic growth this year has brought. The pace at which every member of team WIREWAX works to drive forward with an almost infectious momentum is truly awe-inspiring.
So as we near the end of 2019 it's prime time to look back for just a taste of some of the biggest happenings across WIREWAX for 2019. Let's dive in, shall we?
We evolved and elevated our entire brand identity.
And launched a dynamic new website to match.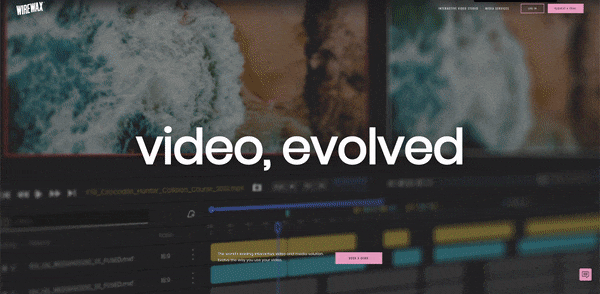 We exploded onto the media and entertainment industry with never before seen disruptive technology.
And gained elite industry recognition within just one month of launching.
We built a next-generation video player for interactive video distribution, the likes of which have never been seen before.
And welcomed world-renowned creative clients to the WIREWAX user pool.
Including The Home Depot, ROC Group, SAP and Group SJR to name a few.
To top it all off, we were named Most Outstanding Interactive Video Company Of The Year For 2019.
---
We came, we saw, we conquered, and we're ready to do it all again and even more in 2020.
From everyone at team WIREWAX, we wish you a safe holiday season and look forward to bringing bespoke interactive video and advanced media technology to you in 2020.
TAGS:
interactive video
WIREWAX
WIREWAX Media Services
SHARE: